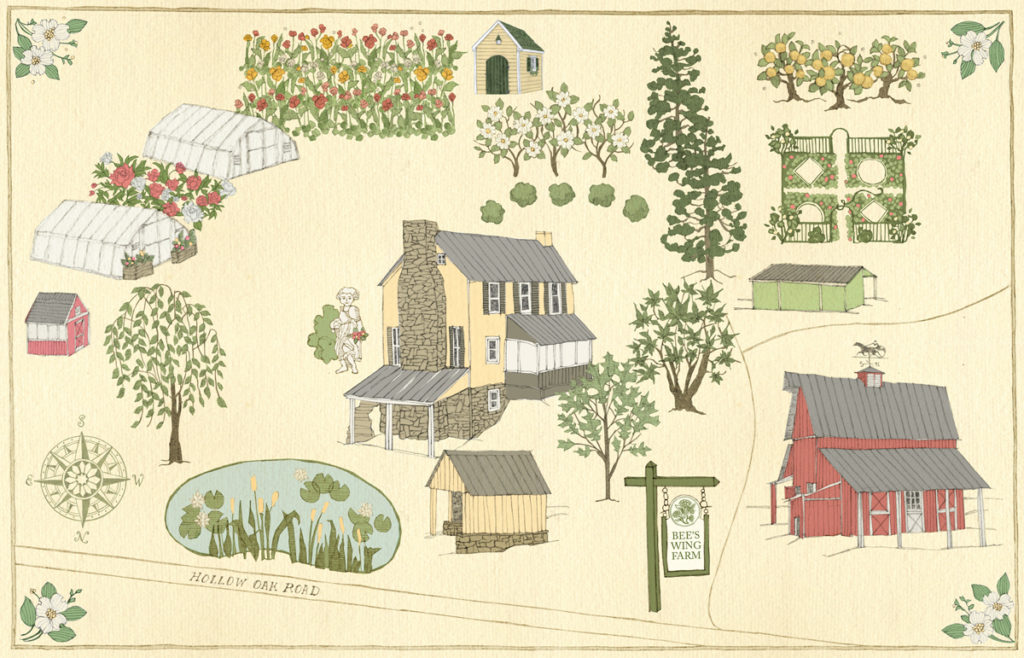 The land that holds Bee's Wing Farm is where I was raised. Its deep spring-fed pond and remarkably loamy soil for Virginia made it the perfect place to host the long dreamed dream of having my own farm. The stucco farmhouse and timber frame barn are circa 1819. The barn on the farm long hosted my pony fantasies as a girl. I was (and still am really) horse crazy. Though we sent my eventing mare and best friend of 16 years, Fergie, to greener pastures in April of 2018, the barn still holds remnants of those dreams... some excellent Chelsea Belle original pony drawings and haikus, an old tack trunk that now holds irrigation supplies, and the horse smell that somehow still lingers. The barn now holds our design studio and the pasture is now where we grow all of our flowers.
My very favorite farmer and poet Wendell Berry once wrote "what I stand for is what I stand on" I love this little holler of land that the farm stands on, tucked at the base of the Blue Ridge and it is my most important work to learn, love and care for it. We steward this land by using sustainable practices of soil and water management and decline to use synthetic pesticides and herbicides. Our flower fields play host to countless songbirds, raptors, bees, butterflies, amphibians and four-legged furry friends. Large plantings of perennials and shrubs, with emphasis on native varieties, provide unusual cutting material and boost biodiversity. The fields are organically-managed, natural fertilizers are used to nourish the plants, and no toxic chemicals are applied anywhere in the field or growing houses. An extensive drip irrigation system waters the field at the most effective moment with just the right amount so there is no waste. Cover crops are used to manage weeds, support soil biology, and stop any erosion when the flower beds are fallow.
Every season I feel like we learn something new from this place. Even though I've been connected to it for almost 30 years. We know that it sits low and the cold air settles in its nooks and crannies and that we always ought to go and cover things if it's going to get nippy. It's very windy and taking the extra time to build strong trellising and it is always a good idea to secure the north end of our greenhouses extra well. It gets the most beautiful light in the western parts of the field in the afternoon. The southern part of the field is extra loamy but a bit slopped and makes it the perfect home for our perennials plantings. The northern end of the field is always a bit soggy, there must be a spring there, so we plant things that don't mind having their feet a bit wet. It continues to reveal its character to us year after year. We just have to keep being careful observers.
The Flowers
We grow hundreds of varieties of annual and perennial flowers. In addition to growing flowers we:
design and arrange flowers for weddings and events
sell wholesale to local floral designers
make custom arrangements at the local farmers' market
make bouquets for our flower CSA
for a list of flowers we have available each month, click here